Upcoming Workshops + Classes!!

---
Teach Your Child to Chill: An Interactive Workshop for Parents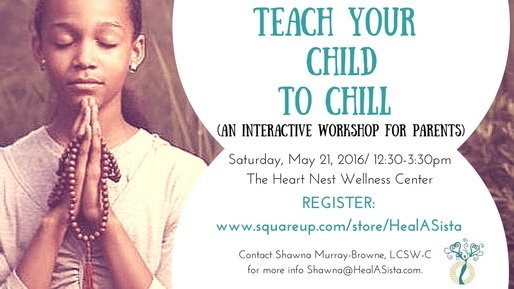 Saturday, February 27, 2016
Doors Open at 12:30pm
1:00pm- 3:30pm EST
The Heart Nest Wellness Center
4 W. Rolling Crossroads, Suite 3
Catonsville, MD 21228

Investment: $40.00





From toddlers to teens, having the skill to help your child chill is GOLDEN!
From temper tantrums, silent spells, anger outbursts and sleeping in sadness, we can all recognize when a child is simply not acting like themselves. The fact of the matter is, building your toolbox with skills to use throughout your child's lifespan can change not only their lives, but the rhythm at home!

Join me for an introductory workshop made especially for anyone parenting and learn some methods that will change the game. This workshop is suitable for grandparents, aunts, uncles, caregivers, co-parents, step-parents... Basically, if you love a child, you will love these "Chill Skills."

No matter if your child is a toddler or in their teenage years, you will gain skills to help you where you are.

We will:
- Discuss how stress impacts brain development and behavior through the lifespan
- Learn the MOST powerful tool to changing your child's life
- Experience "chill skills" to share with your children at home (games, deescalation techniques, mindfulness, meditation)
- Get real about the challenges and brainstorm solutions

---
---
QiGong for Calm and Clarity: A 4-Week Healing Series for Men & Women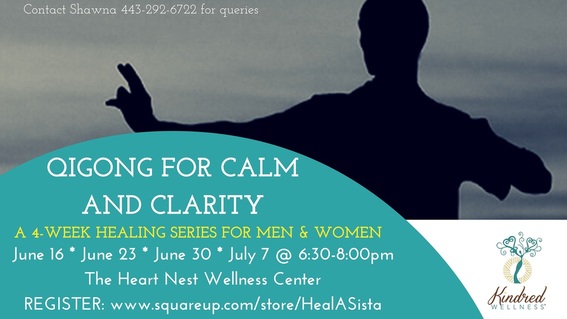 4 Weekly Thursdays
June 16, June 23, June 30, July 7
6:30pm- 8:00pm EST
The Heart Nest Wellness Center
4 W. Rolling Crossroads, Suite 3
Catonsville, MD 21228
Investment: $60.00 for all 4 classes
Our workplace is bustling, our families need us and we have so many goals to achieve. We get most of our to-do list down, but tend to forget to make time for ourselves. Our muscles ache, our mind has many thoughts, and fatigue is prominent... all messages from your mind, body and spirit, requesting your mindful awareness.
QiGong (pronounced Chi gong) is an ancient Chinese healing modality that integrates gentle movements, breathing techniques and intention. Over 2,500 years old, these exercises have been known to improve posture, support relaxation, prevent illness, improve sleep and nourish your organs!
Participants who commit to this Healing experience will learn simple QiGong Movements, Ancient Healing Sounds, Sitting/Standing and Moving Meditations for daily life.
Class will occur weekly on Thursdays and will begin at 6:30pm-8:00pm (June 16, June 23, June 30, July 7). All fees must be paid in full before participating and all are required to make a commitment to attend all 4 classes. Space is limited.
Your Guide:
Shawna Murray-Browne, LCSW-C is an integrative psychotherapist, Mind-Body Medicine Practitioner, speaker and Certified Level 1 QiGong Instructor. Known best for her community initiative, The
#HealASista
Project, Shawna has been supporting women, men and children alike in finding calm and clarity through holistic psychotherapy, classes, retreats, trainings and workshops.
---
Past Events

For Our Sistas Sake... Healing from Sexual Violence and Abuse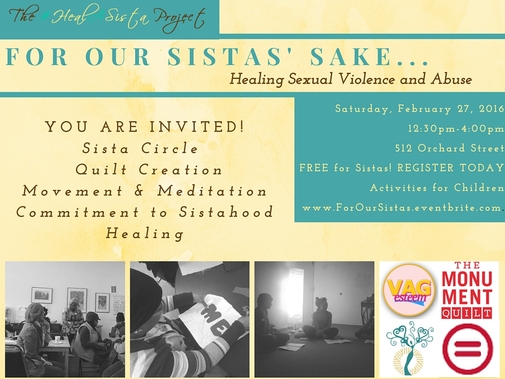 In Collaboration with GBLA, The Monument Quilt and VagEsteem
Saturday, February 27, 2016
Doors Open at 12:30pm
1:00pm- 4:00pm EST
The Orchard Street Church
512 Orchard Street
Baltimore, MD 21201
Our wombs are sources of power and energy. When we are violated or when our sistas are in pain, we must come together to heal and nurture.
Join Shawna Murray-Browne, LCSW-C, owner of Kindred Wellness LLC/founder of the #HealASista Project, Mia Jones of The Monument Quilt and Vanessa Geffrard of VagEsteem as we get real about the truth and trauma of sexual violence/abuse, sistahood and healing.
You will:
-Learn ways to use Meditation at home to get grounded
-Participate in a sacred sista circle where we will explore emotions and histories around sexual violence and abuse
-Release burdensome feelings through the creation of a quilt square
-Make a committment to healing our whole selves in sistahood so we can THRIVE
-Connect to local organizations that provide support for sistas on their journey
In our sista circle we will Get Real, Get Support and Get Grounded so we can continue on our path.
Join the Movement to #HealASista!
Ticket Includes:
-Guided Meditation with Shawna
- Powerful Sista Circle Discussion and Commitment with Shawna and Vanessa
-Activities for the Children of Mamas
-Support and Materials to design and create your own Quilt Square with Mia
-Private Reflection
-Light Refreshments
AND SO MUCH MORE!
PRE-REGISTRATION is REQUIRED, please cancel your registration if you can no longer attend.
Special THANK YOU to our Partners:
Greater Baltimore Leadership Association (www.gblaimpact.org)
The Monument Quilt (https://themonumentquilt.org)
VagEsteem (www.vagesteem.com)
For more information about other Kindred Wellness, LLC and the healing facilitated there, Visit:
www.HealASista.com
Are you an organization that provides services to women, and children who have experienced sexual violence and abuse? If so, please call Shawna at 443-292-6722 to inquire. We are only accepting a select group of organizations.
---
---
Fearless... A Mini-Retreat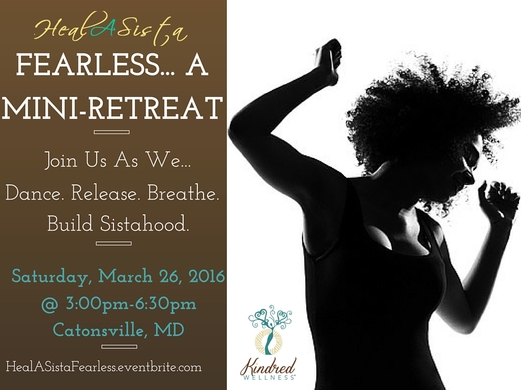 Saturday, March 26, 2016
3:00 pm- 6:30pm EST
The Heart Nest Wellness Center
4 West Rolling Crossroads, Ste. 3
Catonsville, MD 21228

You have declared that your PASSION must be BRIGHTER than your fear.

In 2016, you have committed to take better care of yourself and nurture stronger, more genuine relationships.

You know that you simply have to RELEASE all the doubt, and SURRENDER to what is for you.

Connect with an intimate group of likeminded women, who will accept nothing short of their personal best.



Experience Dancing for RENEWAL and BECOMING with Camille Nesibindi, connect with your deepest dreams and LET GO of your loudest fears with Shawna. BE FEARLESS.

Ticket Includes:
- An intimate Sista Circle Discussion about how to Release the Negative Self-Talk that Fuels the Doubt to Be Fearless!
-Guided Meditation to apply at home with Shawna Murray-Browne, LCSW-C
-An Introduction to Crystals and Essential oils for CONFIDENCE and LETTING GO
-A Dance Experience for stress relief and rejuvenation with Camille Nesibindi Weanquoi
-Private Journaling
-Light Fare with a featured dish from Garden of Vegan Catering

This Mini-Retreat is for women who value sistahood and enjoy goddess experiences.

Pre-Registration is Required. Ticket sales close on March 20, 2016 at 11:59pm. This is an intimate gathering, therefore there are limited tickets available.
Ticket sales are nonrefundable and can only be redeemed for the specific event date purchased.
Tickets can however be gifted to other Sistas you love!

---