Individual, Family, & Group Therapy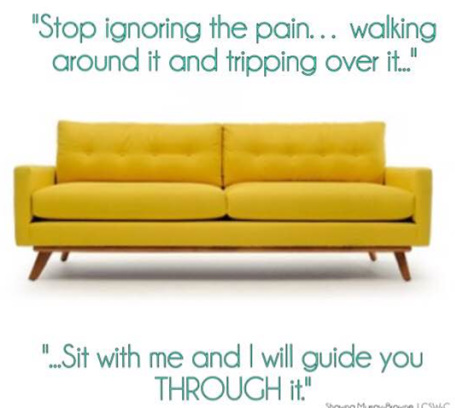 Healing is a labor of love and I would be honored to join you on your journey. Whether you are addressing hurtful past experiences and feeling depressed; handling anxiety or building higher self esteem, we can work together so you have the skills to get through, heal and find happiness. Sometimes it means sitting on the couch and connecting, other times it may mean learning a moving meditation or a still meditation in the park.

I also create sacred space for your blossoming teen girl; addressing behavior issues, overwhelming sadness, anger management and all other "growing pains." I support your entire family or we can simply focus on you! Whatever it takes to help you to heal yourself, as your therapist, "I gotcha' back!"



I believe that central to the health of our families is the quality of relationships between the parent and child. As a result, I offer therapy unique to the needs of repairing the parent-daughter relationship; as well as resolving personal issues connected to that relationship.

I incorporate movement, art, nature and meditation in my practice. My specialty is working with individuals and families of color; honoring their culture.
Treatment Specialties


Depression
Anxiety
Behavioral Issues
Anger Management
Coping Skills
Grief
Peer Relationships

Self Esteem
Trauma and PTSD
Family Conflict
Parenting
Relationship Issues
Spirituality

Parent-Daughter Relationships

Treatment Approach


Cognitive Behavioral (CBT)
Dialectical (DBT)
Ecotherapy
Expressive Arts
Holistic Psychotherapy

H. E. R. Sista Circle - Group Therapy for Adolescent Girls

H.E.R. (Heal. Empower. Renew.) Sista Circle
is a group therapy model especially created for teen girls of color ranging from age 13-18. Its a safe space to allow girls to explore their self-worth and identity in small groups (up to 8 girls), bi-weekly for 10-12 weeks. Circles are 90 minutes.
A therapeutic and educational approach incorporating holistic ideals in a cultural curriculum
Focused on improving social interaction, increasing self-esteem, and improving mood.
Incorporates activities, initiatives, and games to allow for exploration and learning of more effective social and coping strategies.
Allows for feedback and sharing in an environment that is constructive and supportive.
Utilizes movement, music, art and meditation designed to aid in understanding and expression of feelings and development of self-esteem and confidence.
Goals:
Increase self- love, self- discovery, self esteem and Self acceptance
Strengthen and develop healthy "sistahood" relationships between girls and the women in their lives and healthier engagement in their families
Develop skills to critically think and strengthen decision making
Gain mastery of effective coping strategies to address negative feelings
Address problems associated with low self esteem, anxiety, depression, anger and behaviors that otherwise interfere with academic success
Criterion for participation:
You are committed to the child participating in ongoing individual therapy with me
You and your child is comfortable discussing topics from an African American perspective
Your child has expressed an interest in engaging with other teen girls for the duration of the program (This group is voluntary)
The child experiences struggle in any of the following areas: exploring sexuality, school problems, difficulty in personal relationships (especially peers, dating or parents), low self esteem, concerning media involvement, anger management, difficulty complying with adult directives